About J S Wright
Wright Maintenance is part of J S Wright, one of the UK's leading mechanical and electrical building services providers.
Visit J S Wright Website
J S Wright provides design, installation, manufacturing and maintenance services
Founded in 1890, J S Wright provides design and build, mechanical, electrical and sprinkler installation and maintenance services for the hotel, residential, social housing, student accommodation, leisure and commercial sectors.
We have fully qualified Low Carbon Consultants, J S Wright is an expert in delivering energy efficient and carbon-reducing systems across the full range of heating, hot water, ventilation and air conditioning, and plumbing services.
With a directly employed and highly skilled workforce and an award-winning training academy, J S Wright works in partnership with industry-leading suppliers and subcontractors to provide sustainable and affordable building services solutions for multi-million-pound developments across the UK.
We also an office at 1 Northumberland Avenue in central London, as well as other offices in Birmingham and Bristol, J S Wright has designed and installed mechanical and electrical systems for homes and businesses across London.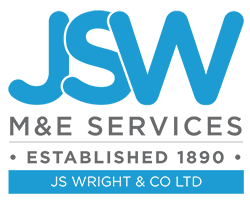 The company has fitted out penthouses, private and affordable apartments, studio flats and townhouses in new schemes for some of London's biggest housebuilders as their preferred choice of building services contractor.
A specialist in tall residential buildings, J S Wright's project portfolio includes Keybridge in Vauxhall, recently highly commended for Apartment Development of the Year in the Sunday Times British Homes Awards.
The company has equipped more than 400 homes at Keybridge which includes two brick apartment blocks, one of which will be the tallest in the UK. The maintenance of its mechanical systems is being carried out under contract by an experienced Wright Maintenance resident engineer.
J S Wright was also voted one of the UK's Top Ten Specialist Contractors to Work For in the 2016 Construction Enquirer Awards and was a finalist in three categories in the 2018 H&V News Awards.